Are You Ready for God Designed Greatness?
This program is designed for people who want to start seeing amazing results in their life spiritually and physically.
Inner Circle is a coaching membership program designed for personal application of God's design of the life and health He created you to enjoy! It connects beliefs, behaviors, and results!
Are You Tired Of Trying Everything?
"That's Not Me Anymore!"
Monthly Membership Benefits:
Multiple weekly coaching calls on topics for your physical, emotional & spiritual transformation
Immediate Access to Exclusive Inner Circle video courses and a vault of library archives
6 weeks of delicious menus - Includes recipes and shopping lists
Group challenges to keep you engaged
Experience how weight loss and healthy living happen -  through God's design
Learn the tools to help destroy obstacles that are keeping you stuck in health, anxiety, mindset and even a lack luster prayer life
Use your brain and God's Word to process emotions to win
Achieve your healthiest weight
Become more confident in ALL areas of life
EXPERIENCE BREAKTHROUGHS
Walk away from Emotional Eating
Truly KNOW how to pray for answers
Say goodbye to anxiety and depression
Fight and prevent cancer
Appreciate God's designed of your body
More than "just" Coaching!
When you become an Inner Circle Member, you gain access to an entire vault of courses and resources!
Take these informative courses at your own pace. Dive into the topics that you need the most! All past coaching calls are available and sorted for you to glean from!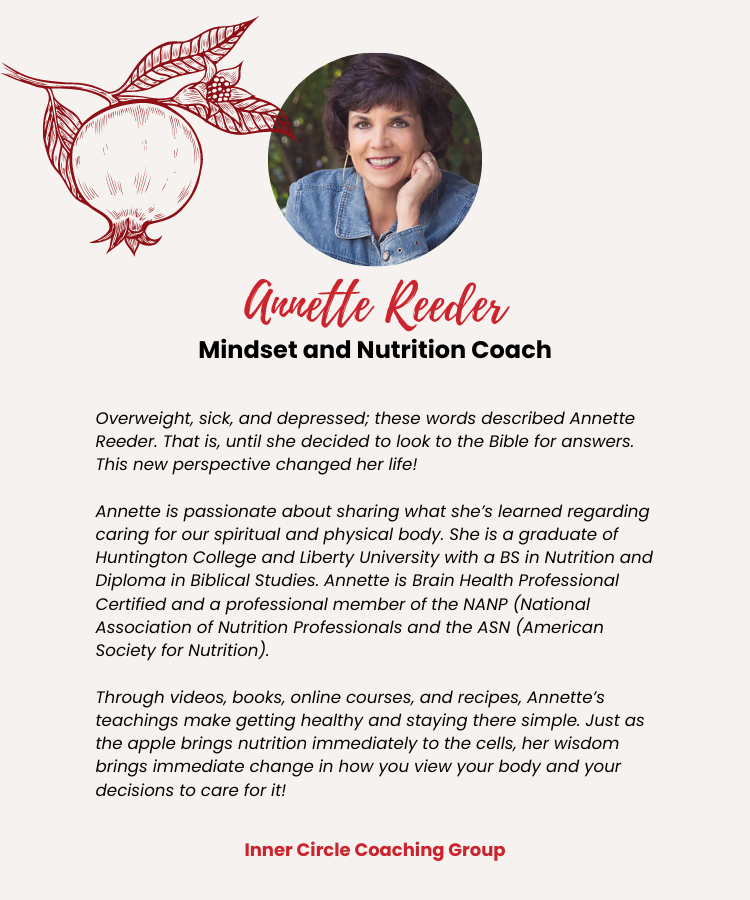 Join the Inner Circle
Begin your journey towards wellness today!
What if I can't make the live calls?

That is totally understandable. All calls are recorded and added to the ever expanding library vault for your access as long as you keep your membership.

Can I attend ALL the coaching calls?

YES! We would love to meet you and watch your transformation happen quickly. Those who attend the live calls make the greatest progress! We are here to help you succeed either in the live calls or you can listen later.

Is this a one time fee or monthly fee?

I love to have all the facts before I join any group. This is a monthly membership that you can cancel at any time.

How much time is suggested for this group?

This is a personal preference. Some people once they attend the live calls - love it so much they are on live calls at least twice a week. Then there are more courses to take at your own time that could add to this time. Bottom line - I would recommend at least one hour per week and perhaps even more.

What times are the calls live?

The calls will vary as to the time of day yet they are always listed in Eastern Standard Time.
Greater is He that is in me, than he that is in the world.
Inner Circle helps you see the 'Greater' God's Word describes.